Nederland gaat in 2022 van het Groningse aardgas af. En dan maakt Gasunie-topman René Schutte (52) uit Zutphen het leidingnet stap voor stap klaar voor waterstof, de nieuwe en schone energie van de toekomst. ,,We kunnen dat."
,,We hebben dat eerder gedaan", zegt René Schutte. Dat was toen 'we' aan het aardgas gingen. Gasunie verandert van aardgasbedrijf in waterstofonderneming. Maar een koud kunstje is de ombouw nou ook weer niet, legt hij uit.
U bent 'programmamanager waterstof', u draait aan de waterstofknoppen in Nederland en bent architect van de energietransitie.
,,Nou, ik niet alleen. Gasunie gaat over de infrastructuur van het aardgasnet in Nederland en Noord-Duitsland. Dat loopt (hij laat een kaart zien) door tot en met Berlijn. Die leidingen kun je relatief eenvoudig geschikt maken voor waterstof. Voor die transitie heb je iedereen nodig."
Als de Groningse aardgaskraan in 2022 dichtgaat moet Nederland aardgas inkopen, want voorlopig kunnen we nog niet zonder. De route naar alternatieve, duurzame energie duurt tot 2050.Je cookie instellingen zorgen ervoor dat deze inhoud niet getoond wordt. Pas je cookie instellingen hier aan.
,,Overstappen op waterstof gaat niet zomaar. Om heel veel redenen. Er moet nogal wat bij elkaar komen. De productie van waterstof, transport, opslag in zoutkoepels – want in de winter is er meer energievraag dan in de zomer en dan is het prettig dat je een voorraad hebt – en dan bij de eindgebruiker, bij u thuis of bij bedrijven. Je heb cv-ketels nodig die op waterstof werken en monteurs die die kunnen monteren… Dat moet allemaal tegelijk passen."
Wat maakt u bij uitstek geschikt om de operatie 'van aardgas naar waterstof' te leiden?
,,Ik kan het hele waterstofverhaal uitleggen en verbinden. Dat is ook de rol van Gasunie, letterlijk en figuurlijk."
Eurocommissaris Frans Timmermans noemt waterstof 'de nieuwe rockster in energieland'. Als je het aardgasnet ombouwt naar waterstof, heb je maar een kwart van de kosten die je zou hebben als je alles nieuw moet aanleggen. Daar ligt volgens hem voor Nederland een enorme kans.
,,Zegt hij dat? Daar ben ik het wel mee eens. Mooie vergelijking, dat met die 'rockster'. Dat klinkt swingend."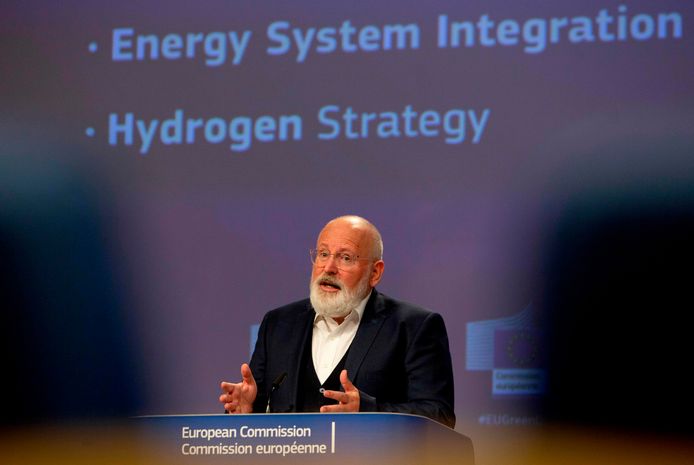 Timmermans waarschuwt ook dat we vaart moeten maken met waterstof; nu loopt Europa technologisch nog voorop, maar 'we moeten extra inzetten om voorop te blijven omdat de rest van de wereld snel langszij komt'.
,,Je ziet dat Europa de opvatting aanpast van 'just in time' naar 'just in case': kijk naar wat je zelf in huis wilt hebben. En daar hoort waterstof-technologie bij. De situatie door corona versterkt en voedt die opvatting. We hebben een klimaatuitdaging en daar wil Europa een voortrekkersrol in spelen. En vergis u niet, er gebeurt ook al heel veel."
Hij vouwt een kaart uit met daarop 22 projecten waar Gasunie bemoeienis mee heeft. Op de Noordzee staan kolossale energie-eilanden ingetekend die met de stroom van zeewindparken waterstof gaan produceren. Via pijpleidingen rechtstreeks in het 'aardgasnet' van Gasunie.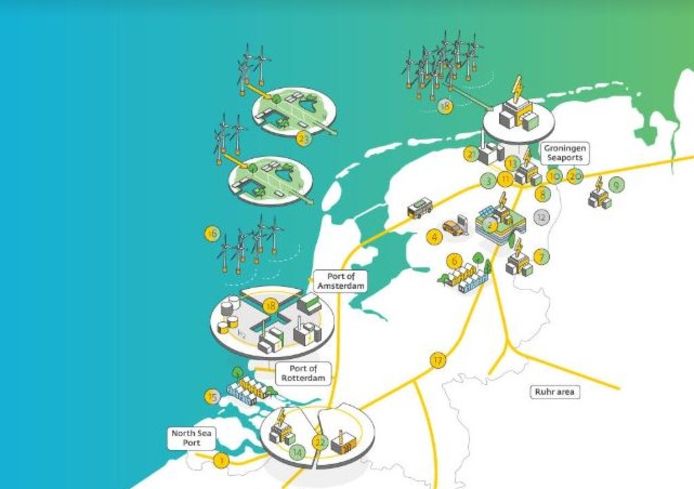 In de Eemshaven figureert op de kaart van Schutte de grootste 'groene waterstoffabriek' van Europa die Gasunie samen met Shell en Groningen Seaport in de bouwplanning heeft staan. 'Groen' omdat de stroom voor de fabriek komt van wind op zee.
Als de overheid meewerkt zijn allebei, Noordzee en Eemshaven, klaar in 2030. Iets zuidelijker bij Zuidwending (Groningen) komt een opslag van waterstof in zoutcavernes. Links en rechts op de plattegrond staan elektrolysers die met elektriciteit waterstof produceren uit water. ,,En dat zijn dan alleen nog maar initiatieven waar wij bij zijn betrokken", zegt Schutte.
Erg snel
,,Tata Steel, Shell, energiemaatschappij Engie, die hebben zelf ook allemaal projecten. De ontwikkelingen gaan erg snel. In het regeerakkoord kwam het woord waterstof nog niet eens voor. Drie jaar later, nota bene middenin coronatijd, omarmt de regering waterstof en ligt er een waterstofvisie."
We moeten de leercurve goed bewaken. De knop in een keer omzetten voor het hele land is niet verstandigRené Schutte, program manager hydrogen bij Gasunie ziet een belangrijke rol voor waterstof maar waarschuwt voor te veel haast
In die visie trekken Gasunie en het ministerie van Economische Zaken samen op om het gasnet om te vormen en klaar te maken voor waterstof. René Schutte is projectleider van HyWay 27 die dat handen en voeten moet geven. Eind dit jaar moet hij zijn eerste verslag uitbrengen.
,,Vanaf 2022 komt een deel van de gasinfrastructuur beschikbaar omdat er dan geen Gronings gas meer door de leidingen stroomt. Ja, een tijdlang zal er nog buitenlands gas doorheen gaan, maar een deel kunnen we alvast schoonmaken, afsluitingen renoveren, het systeem up to date maken en dan kan er waterstof doorheen. De hele ombouw kost 1,5 tot 2 miljard euro. Dat is relatief heel weinig voor een operatie van die omvang. In die zin is ons gasnet inderdaad zoals Frans Timmermans zegt goud waard."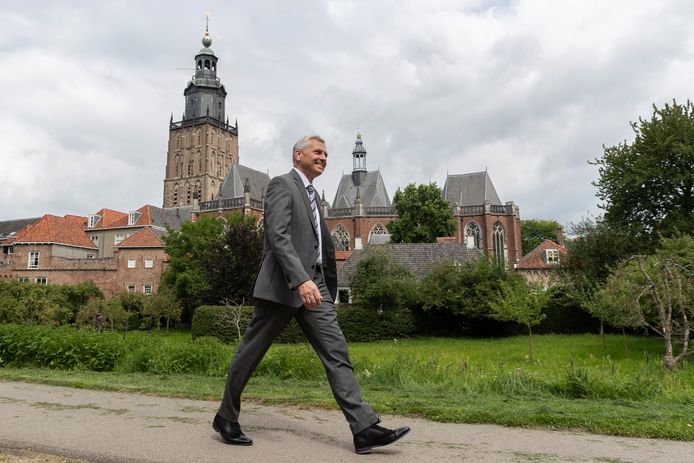 Volgens 'waterstofprofessor' Ad van Wijk van de TU in Delft moet de overheid centrale regie nemen zodat waterstof ook echt een plek krijgt.
,,Daar heeft Ad gelijk in. Het waterstoflandschap in Nederland was nogal versnipperd. Iedereen deed wat. Die centrale regie begint er nu te komen. Er ligt een visie. Maar we hebben tijd nodig om te leren. Van aardgas weten we alles. Heeft u ooit van een aardgasstoring gehoord? Niemand maakt zich er zorgen over dat er bij de productie en transport, de hele logistiek tot en met de cv-ketel in huis iets mis kan gaan.
Die leveringszekerheid willen we bij waterstof ook. Maar het gaat wel over nieuwe systemen, nieuwe apparatuur en nieuwe opslag. Waterstof is 'dunner' dan aardgas en gedraagt zich anders. Natuurlijk kom je dan onderweg 'iets' tegen. De knop in een keer omzetten voor het hele land is niet verstandig. Je moet uitkijken dat je in een situatie terechtkomt die niet werkt. Dat is wat ik doe. Duwen, trekken, leren, stappen zetten, bij elkaar brengen…"
Iedereen moet er tegelijk klaar voor zijn?
,,Wij kunnen onze leidingen en de hele infrastructuur klaarmaken voor 2027, maar als er dan geen waterstof is of als niemand het gebruikt, heb je daar niets aan. Er moet voldoende massa, voldoende vraag en aanbod zijn. Je gaat niet voor één bedrijf alles aanpassen."
Langs Zutphen lopen zes hoofdgasleidingen van Gasunie. U woont in Zutphen. Geeft dat wat thuisvoordeel?
Hij lacht. ,,Nou ja, zo'n gesprek gaat 's avonds net iets gemakkelijker even tussendoor. Lokale waterstofinitiatieven – en die zijn er – weten mij te vinden. Ik vertel wat nodig is om het voor elkaar te krijgen. Ik draag ze een warm hart toe. Misschien kan ik er ook weer wat van leren."
Als ik nu een nieuwe cv-ketel moet aanschaffen, wat raadt u dan aan?
,,Gewoon een nieuwe hr-ketel op aardgas of misschien een hybride ketel die je combineert met een warmtepomp. Het is echt niet zo dat over tien jaar alle 7, 8 miljoen huizen aardgasloos zijn. Kijk naar de levensduur van een ketel en je persoonlijke situatie. Maar dat zeg ik nu. Volgend jaar kan alles anders zijn. Ontwikkelingen gaan snel. Er zullen zich innovaties voordoen die we nu nog niet kunnen bedenken."
Waterstofprofessor Ad van Wijk legt uit waarom waterstof dé oplossing is voor ons energieprobleem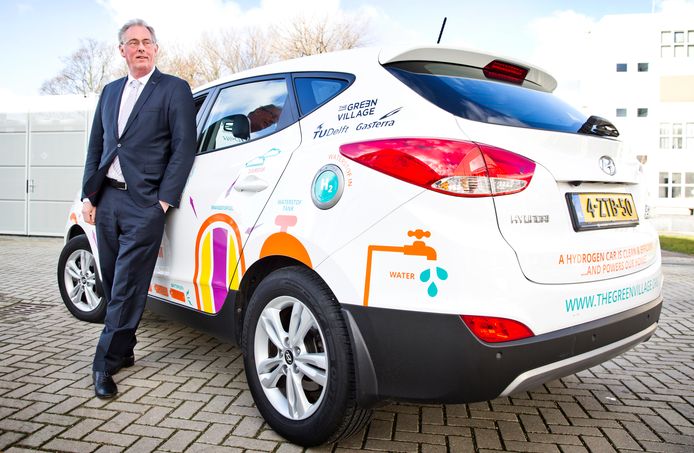 Om waterstof te maken heb je elektriciteit nodig. Die splitst water in waterstof en zuurstof. Waterstof kun je verbranden, bijvoorbeeld in een cv-ketel, of weer omzetten in stroom. Belangrijk voordeel: je kunt waterstof ook opslaan en later gebruiken als je dat nodig hebt. Dat kan niet of veel moeilijker met stroom uit zon en wind.
Ons elektriciteitsnet kraakt en piept
nu al omdat die de toevloed aan energie uit zon en wind niet meer aankan. "En dan hebben we eigenlijk alleen nog maar naar de elektriciteitsvoorziening gekeken. Dat is 15 procent van de energie die we gebruiken. We moeten ook de warmtevoorziening, mobiliteit en industrie nog verduurzamen", waarschuwt waterstofprofessor Ad van Wijk van de TU Delft.
De capaciteit van ons gasnet is 15 keer zo groot als die van het elektriciteitsnet
en de transportkosten zijn tot een factor 20 lager dan die van stroom. Dus dat loont al snel. Het allerbelangrijkste: het afval van waterstof is superschoon… water.
Haal waterstof uit de Sahara
Het is volgens Van Wijk  een idee fixe om te denken dat Nederland alle benodigde duurzame energie zelf kan opwekken. Dat hoeft volgens hem ook niet. "Met waterstof kun je ook van elders energie importeren. Als je in de Sahara datzelfde zonnepaneel neerzet dat op je dak ligt, brengt dat drie keer zoveel op. Zelfs met transportkosten erbij ben je nog goedkoper uit."
Dit artikel verscheen eerder op: https://www.destentor.nl/zutphen/deze-zutphenaar-helpt-heel-ons-land-aan-waterstof-echt-niet-alle-huizen-zijn-over-10-jaar-aardgasloos~ae5a9f7e/ (auteur: Lex van Kooten)